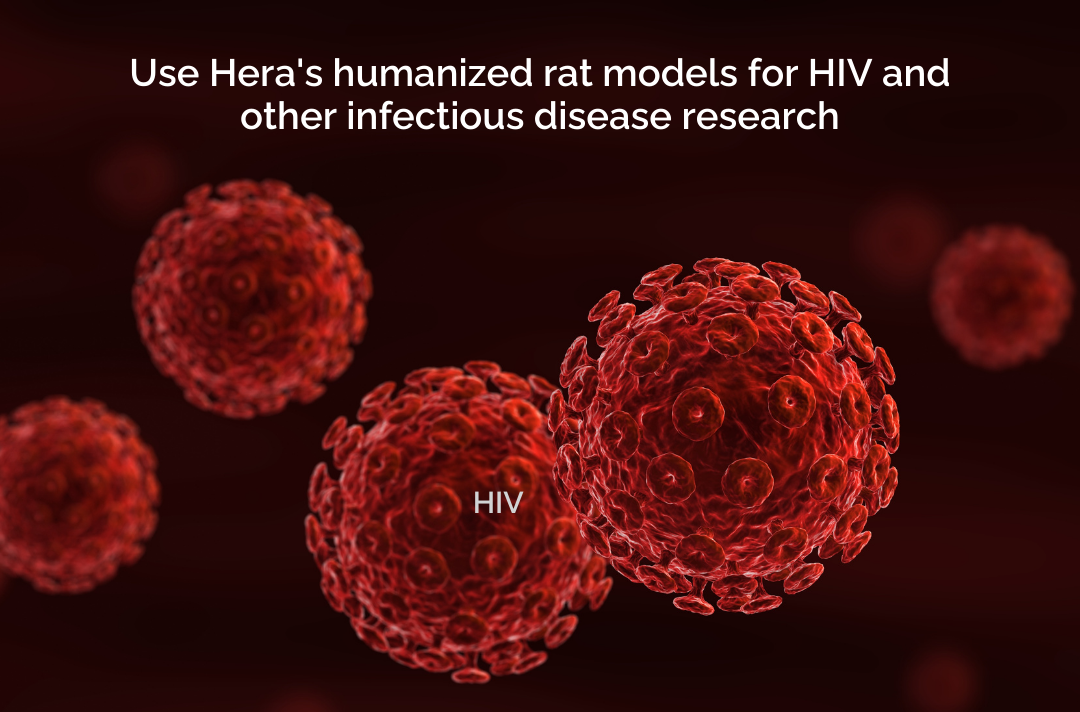 HIV-associated morbidity and mortality have both been significantly reduced over the past few decades due to the development of safe and effective combination antiretroviral medications. These drugs have provided a great way for protection against HIV transmission so far. Despite these advancements, there are also some significant limitations, including the inability to eliminate HIV reservoirs and to reverse lymphoid tissue damage, as well as the lack of effective vaccines to prevent the overall transmission of HIV. One of the reasons development of these technologies is so difficult is that safety and efficacy studies require robust in vivo models.
As such, in vivo animal models for HIV-host interactions require a few things, like incorporation of human hematopoietic lineage cells and lymphoid tissues. In this review, we will discuss how all of that can be accomplished with human immune system (HIS)-humanized rat models, like Hera's OncoRat.

Emerging trends with human immune system (HIS)-humanized rat models
Long before the development of genetic engineering platforms and knockout mice, rats were the predominant species of animal models employed in biomedical research. There are multiple advantages to using rats including longer lifespans and larger sizes, which facilitates bigger experimental opportunities and larger sampling volumes compared to mice. Specifically, rats provide a better suited platform for in vivo imaging of diseases, mainly because rats provide a larger size for better resolution. Furthermore, rat models are known to exhibit advanced cognitive skills and other physiological parameters important for research including heart rate and drug metabolism that more closely mimic human bodily functions.
Some of the most recent advancements in genetic engineering, such as CRISPR/Cas9, Cas-CLOVER, and piggyBac technologies have enabled researchers to develop several immunodeficient rat models for transplanting, as well as regenerating human tissues and cells on a whole new level. For example, Hera's SRG platform is a Sprague-Dawley rat with a double knockout for the Rag2 and Il2rgamma genes.
In a recent study, the research team demonstrated that immunodeficient rats can be completely reconstituted with an array of human cells following a transplantation with human-fetal liver-derived HSCs and autologous thymus tissues (Fig. 1).
These HIS-humanized rat models have a tremendous amount of potential in research, as they could not only provide a means for more robust studies, but also a more accurate representation of the safety and efficacy of a drug very early upstream. In this case, on the safety and efficacy of therapeutic agents targeting the HIV reservoir. Another interesting benefit to consider is that HIS-humanized rats have the potential to provide more effective modeling of HIV-associated end-organ diseases, such as neurocognitive, cardiovascular, and lung diseases.

Interested in learning more about Hera's SRG Rat?
Further advancements in studies similar to the one above will provide even better in vivo systems for evaluating the safety and efficacy of therapeutics for HIV, with the help of platforms like Hera's OncoRat. These breakthroughs are possible through Hera's proprietary gene editing systems: CasCLOVER and piggyBac.
Find out more about the SRG rat / OncoRat, our gene editing technology, and our full suite of CRO services by contacting us today!

References:
Agarwal et al. Moving beyond the mousetrap: current and emerging humanized mouse and rat models for investigating prevention and cure strategies against HIV infection and associated pathologies. Retrovirology (2020), 17:8. https://doi.org/10.1186/s12977-020-00515-3