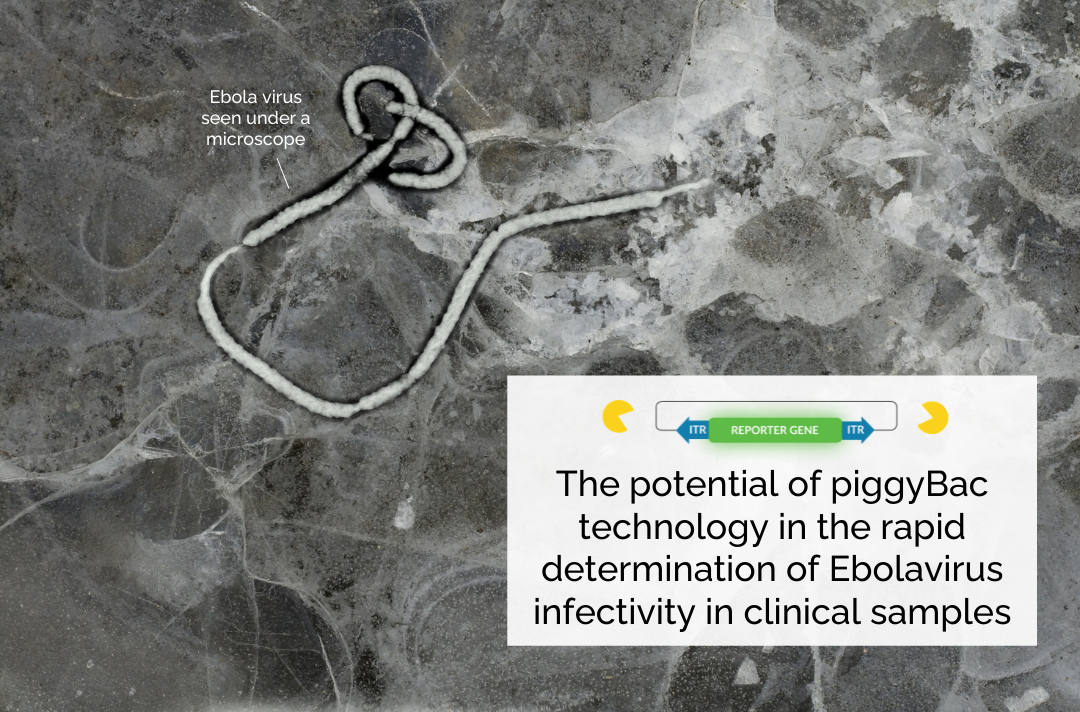 In this article, we would like to review a recent study regarding the effective use of piggyBac in creating novel cell lines capable of efficiently detecting live ebolavirus. It's already known in the literature that modern ebolavirus diagnostics heavily rely on qRT-PCR, a common method in detecting viral genetic material during the acute phase of the disease. However, qRT-PCR does not actually confirm the presence of infectious virus, thus presenting multiple limitations using this technology. Because of these limitations in qRT-PCR, attempts to isolate infectious viruses have to rely on in vivo or general cell culture processes, which can't provide rapid results and screening.
Exploring The Drawbacks Of qrt-PCR
As you can see there are a considerable amount of obstacles using these experimental methods, so the researchers in this study created a novel reporter cell line with piggyBac technology that was indeed capable of detecting live ebolaviruses. The cells engineered with piggyBac technology are capable of providing sensitive and scalable screening and titration of infectious virus in both research and clinical samples for any ebolavirus species or variant.
It has been found that a positive qRT-PCR result does not consistently translate to presence of infectious virus [1]. Even minor differences in a nucleotide sequence can make qRT-PCR assays unable to detect virus material. Even though qRT-PCR can easily be scaled up and automated for larger studies, the infectivity determination by virus isolation still remains to be a lengthy endeavor and is only relegated to biosafety level 4 (BSL-4) laboratories. The isolation protocol in this study prevents rapid results, as the inoculation, fixation and immunostaining takes up to 14 days to complete.
Benefits Of Using piggybac Technology
In this study, the research team was able to establish an effective reporter cell line with piggyBac technology that's capable of producing a robust fluorescence signal in response to ebolavirus infection. They were able to validate this technology with all 5 known virus species of ebolavirus genus, including virus-spiked human blood and serum samples, thus creating a robust platform for further clinical research.
The benefits are far reaching with piggyBac technology. As opposed to qRT-PCR, the piggyBac system is able to provide a more practical and scalable solution for quantification of multiple ebolavirus species and spiked samples. With the robust piggyBac platform, research teams will be better prepared for conducting virus persistence studies and other important studies of this genus.
Some of the key benefits of Hera's piggyBac Transposon System are its flexibility in range from small to gigantic gene loading and integrations; high and stable expressions; enhanced efficiencies and better use of existing resources in your studies.
Interested In More Information?
The piggyBac transposon is an efficient non-viral method of stable transfection, inserting transgenes permanently, as well as seamless excision for Footprint-Free® gene editing as needed. Speak with a Hera team member to learn more about acquiring rights to our gene editing technology. We also offer highly accessible commercial licenses as well.
Learn more about our piggyBac transposon system by contacting us today!

References
Kainulainen MH, Nichol ST, Albariño CG, Spiropoulou CF, et al. Rapid Determination of Ebolavirus Infectivity in Clinical Samples Using a Novel Reporter Cell Line. J Infect Dis. 2017;216(11):1380–1385, doi: 10.1093/infdis/jix486.