Ideal for: ER+ breast cancer, CDK 4/6 inhibition, early and advanced tumor development, anti-estrogen therapies.
Preclinical breast cancer drug development is projected to increase significantly over the next decade. The fastest growing segment is expected to be CDK 4/6 inhibitors, which have proven efficacious in treating advanced estrogen receptor-positive (ER+) breast cancer. MCF-7 cells are ER+, progesterone receptor positive and HER2 negative. The MCF-7 tumor model has been used effectively to study CDK 4/6 inhibition. Combined knockdown of CDK4 and CDK6 as well as inhibitor treatment in vitro reduced ER+ MCF-7 cell growth, demonstrating that this model is ideal for studying ER+ breast cancer and CDK 4/6 inhibition (1). Another example of the benefit of MCF-7 tumor model was the development of selective ER downregulators through the discovery that anti-oestrogens regulated the growth of drug-stimulated MCF-7 cells (2). Below are in vivo data and services in Hera's OncoRat model but we also provide in vitro oncology services.
MCF-7 cells also retain the characteristics of the mammary epithelium, including the processing of estrogen in the cell cytoplasm. MCF-7 cells are less aggressive and non-invasive which makes for a versatile xenograft model of therapeutic response in early and advanced ER+ breast tumor development. MCF-7 cells belong to the luminal A molecular subtype of breast cancers.
MCF-7 cells also express the WNT7B oncogene. The growth of MCF-7 cells can be inhibited by tumor necrosis factor alpha (TNF-α) and the secretion of IGFBPs by MCF-7 cells can be modulated by treatment with anti-estrogen therapies.
Vijayaraghavan et al. (2017) CDK4/6 and autophagy inhibitors synergistically induce senescence in Rb positive cytoplasmic cyclin E negative cancers. Nat Commun. 8:15916.
Holliday et al. (2011) Choosing the right cell line for breast cancer research. Breast Cancer Res.13(4):215.
Studebaker et al. (2008) Fibroblasts Isolated from Common Sites of Breast Cancer Metastasis Enhance Cancer Cell Growth Rates and Invasiveness in an Interleukin-6-Dependent Manner. Cancer Res. 68:9087-9095
Enabling Case Study: MCF-7 tumor kinetics in OncoRat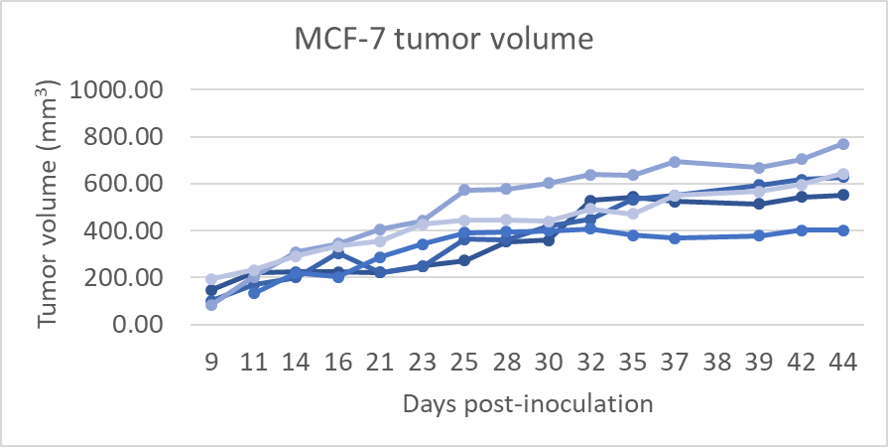 The OncoRat demonstrated a 100% engraftment rate for the MCF-7 xenograft model, providing an ideal host for MCF-7 tumor biology.
OncoRat MCF-7 products & services
Xenograft efficacy studies, including collection of blood, tissues and tumor for ADME, PK/PD and analysis.
OncoRats off-the-shelf for engraftment at the customers facility