New tools to assist in identifying human routes of metabolism, CYP phenotyping and drug/drug interactions
HepG2 is one of the most commonly used cell systems for in vitro screening, but HepG2 cells have low expression and activity of CYP enzymes which leads to missed or underestimated cytotoxicity of test compounds and/or metabolites
We have assembled a panel of HepG2 transgenic cell lines that each stably express one of the major human CYPs (originally published by Takeda Pharmaceutical Company Limited, Osaka, Japan) and utilized gene editing technology to create a CYP reductase (POR) knockout HepG2 cell line.
Used in appropriate assay panels, these cells can address a variety of questions pertaining to CYP mediated metabolism and drug/drug interaction
CYP metabolism phenotyping can be accomplished directly with minimal or no use of inhibitors
Direct or indirect determination of CYP inhibition
CYP specific cytotoxicity
About the HepG2-CYP Panel
The HepG2-CYP cell panel has been fully validated in-house at Hera and published in our SOT 2017 poster Effect of Transfecting HepG2 with Human CYP Enzymes on Chemical Toxicity.
Additional Cell Lines were created by & validated at Takeda Pharmaceutical Company Limited (Osaka, Japan). Please see publication citations below.
HepG2-CYP™ cells restore while reductase KO abolishes CYP activity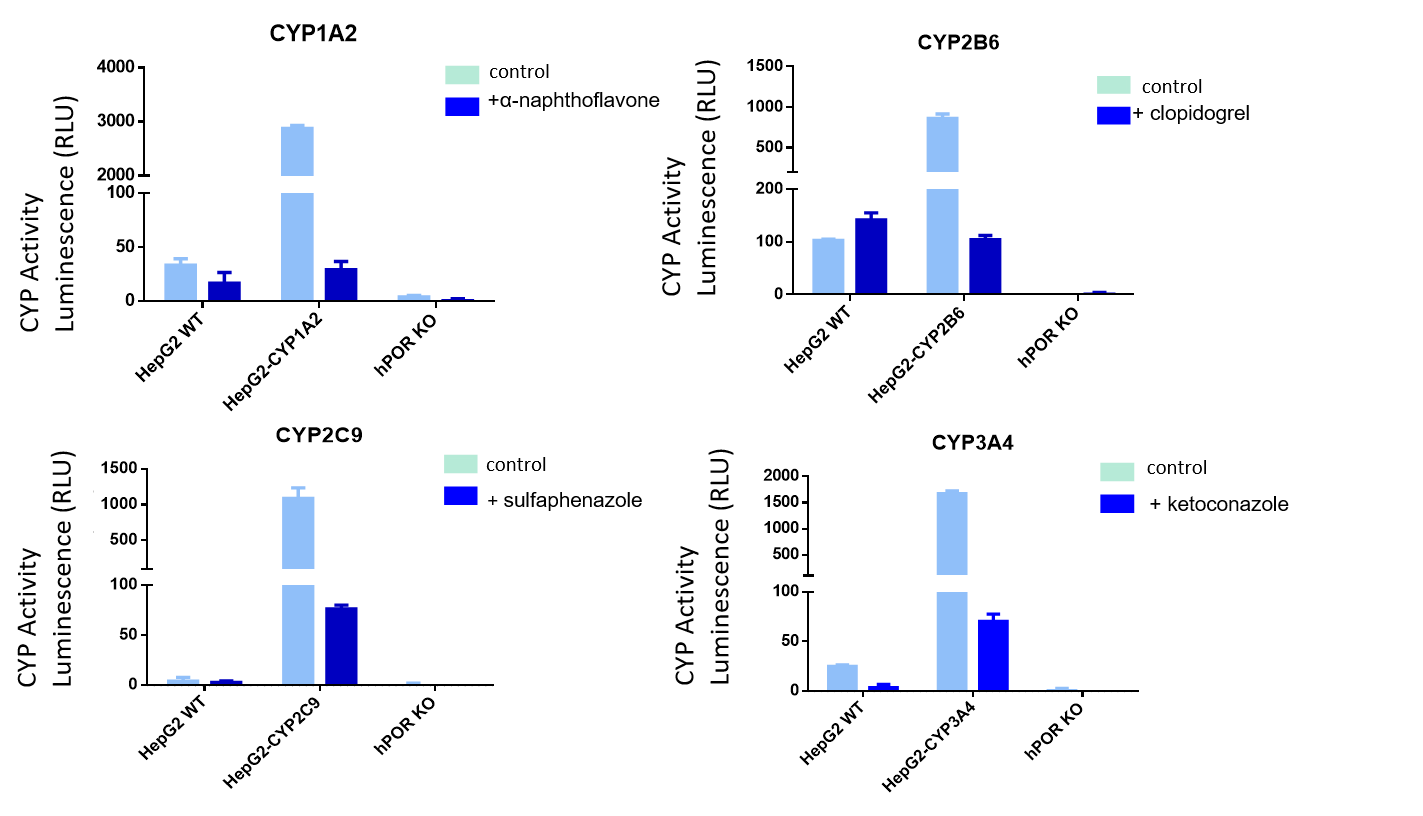 CYP activity in HepG2 WT, HepG2-CYP transgenic and HepG2-CYP reductase KO (POR) cells. CYP activity was measured  with P450 –Glo™ assay kits. Specific CYP activity in transgenic cells was confirmed with CYP-selective competitive inhibitors, namely 5 µM α-naphthoflavone (CYP1A2),  1 µM clopidogrel (CYP2B6),  2 µM sulfaphenazole (CYP2C9),  and 1 µM ketoconazole (CYP3A4).
HepG2-CYP panel correctly identifies CYP3A4 role in Aflatoxin B1 cytotoxicity

Cells were treated with varied concentrations of aflatoxin B1 with or without 1 µM ketoconazole (CYP3A4 inhibitor). In cells treated with aflatoxin B1, concentration‐dependent cytotoxicity (based on loss of cell viability) was enhanced by the expression of CYP3A4 and suppressed by CYP reductase knockout. In HepG2 WT cells and HepG2-CYP3A4 cells, co- incubation with 1 µM ketoconazole partially protected against the toxic effect of aflatoxin B1.
HepG2-CYP Products & Services
The HepG2-CYP cell lines are available as a panel or can be purchased individually
Hera provides in vitro screening services using the HepG2-CYP panel as well other cell lines including: primary hepatocytes, HepaRG, Upcyte hepatocytes, Corning HepatoCells
Cytotoxicity – cell viability (MTT & ATP)
Metabolic stability & metabolite profiling
CYP phenotyping and drug-drug interaction studies
Custom gene editing services (knockout, knock-in and transgenic) to improve metabolic capability
of any cell line as well as further modifications to any of the cell lines from the HepG2-CYP panel