Ideal for: Anti-androgen drug resistance studies, castration resistant studies
Most late-stage prostate cancer patients receiving next-generation anti-androgens initially respond to treatment, but this is usually followed by inevitable disease progression. Therefore, discovery of drugs that overcome adaptive resistance mechanisms is paramount. VCaP is a desirable prostate cancer cell line for in vivo studies as it models human prostate carcinoma very closely. An anti-androgen drug resistant prostate cancer model was generated based on the VCaP cell line and is ideal for next generation discovery programs. In the OncoRat this model not only shows a great engraftment rate of nearly 100% but also clear regression and re-growth after castration as demonstrated in the figure.
Enabling Case Study: Drug resistant VCaP tumor kinetics and castration response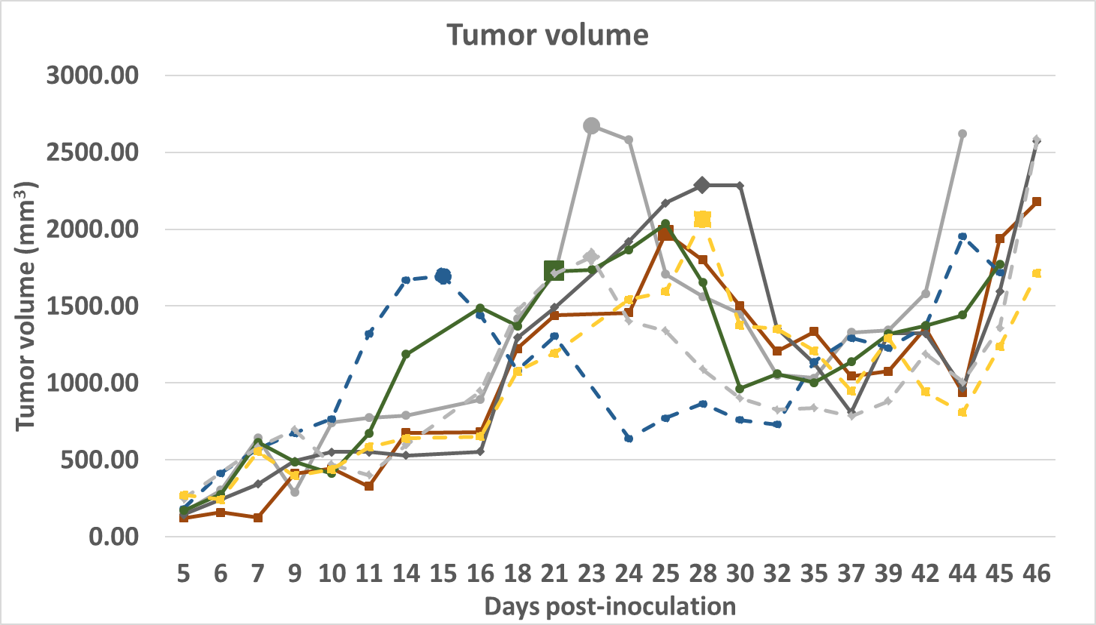 Drug resistant VCaP products & services
Xenograft efficacy studies, including collection of blood, tissues and tumor for ADME, PK/PD and analysis.
Serum collection and the measurement of PSA with a sensitivity of 5ng/ml.
Established protocols for castration resistance models
Gene expression and histology for biomarkers such as PSA and AR on tumors.
Weekly or bi-weekly tumor sampling via fine need aspiration (FNA). For longitudinal evaluation of drug exposure, histology and gene expression.
OncoRats off-the-shelf for engraftment at the customers facility.