Validated to be Reliable, Efficient & Robust, Hera BioLabs' patented, uniquely engineered SRG OncoRat provides an alternative oncology model with significant advantages. We provide xenograft efficacy services using one of our OncoRat Validated Models which span most tumor types or we can validate any tumor model of interest in a fraction of the typical mouse timeline.
A case study of SRG OncoRat tumor xenografts from a Clinical Cancer Research publication
VCaP exhibits many clinical characteristics and is ideal for AR resistance.

Very difficult cell line to grow in mice: <20% take rate, highly variable growth profile even with growth matrix such as Matrigel, geltrex and cultrex


>90% tumor uptake in OncoRat, more uniform growth for VCaP and MDVR-VCaP

Hera provided services to researchers enabling them to:


Determine lead compound efficacy towards human prostate tumors

Publish research data in a high-impact clinical journal (Clinical Cancer Research)

Collect a valuable drug development asset

Serial blood draws for biomarker analysis
Serial blood draws & tumor biopsies in OncoRat
Tumor xenografts are limited to a maximum of 10% of the total animal body weight. In mice with body weights topping out at 20-30 grams, the tumors can only grow to 2-3 grams or 2,000-3,000 mm3, limiting the data that investigators can obtain per mouse for molecular analysis, drug exposure and PK/PD, as well as immune cell infiltration. The OncoRat reaches weights of 200-300 grams, permitting tumors in the range of 20,000-30,000 mm3 as well as enough blood for serial draws for biomarker analysis.
This larger size enables serial blood draws, biopsies and Fine Needle Aspirates (FNA) to study tumor and biomarker responses over time in the same animal without significantly effecting tumor kinetics.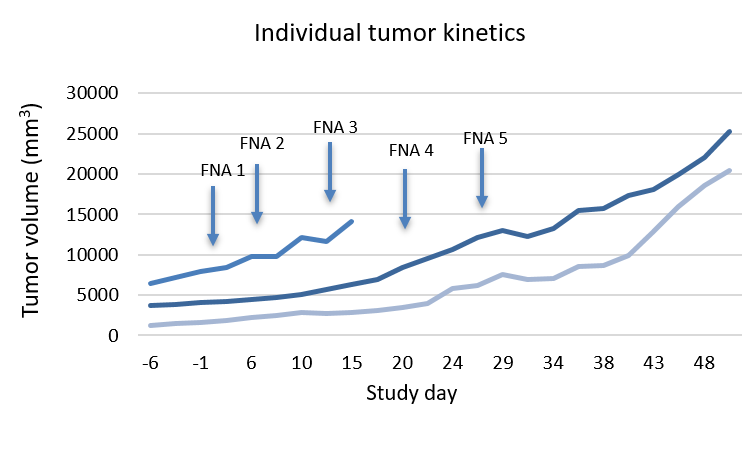 In this control study OncoRats bearing MDVR drug resistant VCaP prostate tumors underwent one FNA core sampling weekly for four weeks and four core samplings in week five. The tumor samplings can be prepared and used for molecular analysis, tumor PK/PD, and immune cell infiltration without taking rats out of the study.
Ponnusamy S, He Y, Hwang DJ, Thiyagarajan T, Houtman R, Bocharova V, Sumpter BG, Fernandez E, Johnson D, Du Z, Pfeffer LM, Getzenberg RH, McEwan IJ, Miller DD, Narayanan R. Orally Bioavailable Androgen Receptor Degrader, Potential Next-Generation Therapeutic for Enzalutamide-Resistant Prostate Cancer. Clin Cancer Res. 2019 Sep 3 (on-line).