Research Model Creation & Services
Breeding and Colony Maintenance
Hera BioLabs offers flexible and customized transgenic model creation, contract breeding, genotyping and screening services.  Liberate yourself from distractions by contracting with us to manage your specific mouse or rat strain from model inception to data delivery. Our brand new vivarium facilities are equipped with an all IVC Innovive system, featuring disposable/recyclable caging, are 100% HEPA filtered, have 24-hour security monitoring and are staffed by our ACLAM and AALAS certified veterinary team so that we can best support your preclinincal in-vivo research.
Our mastery in the creation of genetically engineered rats and mice, colony establishment and expansion, means you can streamline your R&D efforts and minimize your vivarium space needs by outsourcing the generation of cohorts of the exact age, sex and genotype required for your studies.  When you work with Hera, you can rest assured that your model will be bred, prepared and delivered on time and as expected.
Hera BioLabs' comprehensive research model services include:
Rat & mouse housing, maintenance, and husbandry 

Facility space and equipment for animal procedures

Professional consultation services

IACUC services with streamlined protocol review and approval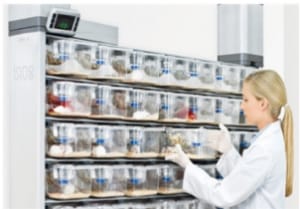 Dedicated to delivery, we provide comprehensive, flexible and collaborative research model services. Click to view the our Frequently Asked Questions (FAQs) about our research model services or contact us directly for more information on how Hera BioLabs can help ensure your projects are completed on-time, with outstanding quality and in compliance with your specifications and standards.
Customized Rodent Model Creation
Hera provides custom mouse or rat model creation utilizing the latest nucleases (CRISPR and TALEN) delivered through pronulcear injection (PNI) into embryos to create transgenic, knockout, knock-in, humanization and conditional modifications.  New research model generation timeline is 5-7 months and we can proceed directly into colony expansion in a customized breeding plan to deliver study animals efficiently and without worry. Contact us for a free project cost estimate.