The OncoRat is Hera's enabling in vivo oncology model. Built on the SRG Platform, OncoRat has a severely impaired immune system and lacks B-cells, T-cells, and NK-cells. Tumor take rates and growth kinetics in OncoRat are superior to mouse models, thereby increasing the probability of study success rates and reducing animal usage numbers, ultimately making the OncoRat a better choice for xenograft efficacy and patient derived xenograft (PDX) model establishment.
In addition, Rats are metabolically closer to humans than mice, and thus the ideal model for efficacy studies, pharmacokinetics (PK), and toxicology all in the same animal.
Health Reports & Facility
Our vivarium is all 100% HEPA filtered, disposable IVC caging specifically designed for immunocompromised animals, such as the OncoRat, NSG mice, SCID mice, Nude mice, and Nude rat. Please see our most recent quarter of health reports below and contact us for additional reports.
Please see Our Vivarium & Husbandry Practices page for most recent quarter of health reports and other information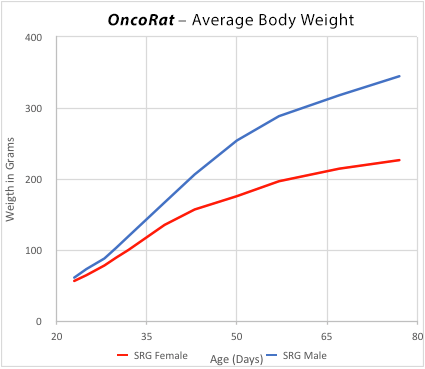 Pricing & Conditions for Use
Contact us for pricing of different age ranges, bulk pricing, and for non-profit/academic users.
Breeding of the OncoRat is strictly prohibited.  Hera requires all customers to sign the terms of the Conditions for Use Agreement prior to shipping the animals. 
Frequently Asked Questions
Is breeding allowed? Breeding is typically prohibited under the Hera Conditions for Use for the OncoRat SRG. However, special exceptions are possible. If your study requires breeding of the animals, please contact us.
Can you provide older/younger animals? Currently our standard age at shipment is 4-5 weeks old.  Hera can accommodate requests for any age animals. Contact us to discuss your specific requirements.  Additional fees may apply.
When can I expect my order? The OncoRat SRG are reserved on a first-come first-serve basis. Upon placing the order your estimated arrival date will be provided and updated accordingly.
How are the animals housed?  The OncoRat SRG are housed in Innovive dual HEPA filter individually ventilated caging (IVC) in Hera's new barrier facility.  Health reports are available for the OncoRat SRG and Hera facility.
Do the OncoRat SRG require a special diet? Are there any additional health concerns? Standard irradiated rodent chow is used. Their immunodeficient phenotype leads to a susceptibility to opportunistic pathogens which should be taken into consideration, as is the case with any immunodeficient strain.  Other than that, the OncoRat SRG does not require any special diet or have any additional health concerns.
OncoRat® is a registered trademark of Transposagen
SRG™ is a trademark of Hera BioLabs