immunodeficient rat model
SD-Rag2tm2hera Il2rgtm1hera
The OncoRat SRG (SD-Rag2tm2hera Il2rgtm1hera ), is a Sprague-Dawley rat with a double knockout for the Rag2 and Il2rgamma genes. Similar to NSG mice and other models with a severely impaired immune system, the OncoRat SRG lacks B-cells, T-cells, and NK-cells. The OncoRat SRG overcomes limitations of the less immunodeficient Nude rat and mouse models such as the athymic, SCID mice and Nude mice. Furthermore, in comparison to state-of-the-art immunodeficient mouse models, such as NOD SCID mice and NSG mice, the OncoRat SRG has demonstrated enhanced utility such as high tumor take rates and favorable growth kinetics for cancer cell line xenografts and PDX models. Humanized immune system OncoRat SRG, huPBMC-SRG rats™, have been developed for immuno-oncology studies.
The OncoRat SRG was created through targeted-nuclease mediated gene disruption of the II2rg and Rag2 genes on the Sprague Dawley background. It contains an 8 bp deletion in the Rag2 gene, and similar to Rag2 knockout mice, leads to a defective V(D)J recombination preventing T cell and B cell development. It also has a 16 bp deletion in the Il2rg gene, which leads to a lack of cytokine signaling, resulting defective lymphoid development. The combined mutations result in a loss of mature B, T, and NK cells.
The OncoRat SRG has a Severe Combined Immuno-Deficiency (SCID) phenotype and accepts human tissue as a xenograft model. Much like creating humanized mice with NSG mice, the immune system of the OncoRat SRG can be reconstituted with human cells. Some of the first OncoRat SRG publications include the 2017 American Association for Cancer Research (AACR) Annual Meeting poster A Novel Immunodeficient Rat for Modeling Human Cancer and the 2017 AACR-EORTC-NCI Molecular Targets poster Novel immunodeficient rat models offers a unique platform for drug efficacy studies in human tumor xenografts. Please see the OncoRat SRG Publications Page for characterization data and application studies.
The OncoRat SRG is immunodeficient and ideal for the engraftment of human tissues. This includes cancer models, xenografts, patient derived xenografts (PDXs), and tissue humanization of the immune system and liver. The OncoRat SRG has been validated with a wide range of xenograft models and PDX models and consistently demonstrates high tumor take rates with traditionally difficult to engraft cell lines, such as VCaP cells for prostate cancer, the H358 cell line for non-small cell lung cancer (NSCLC), HCT116 cells for colon cancer, and more. Subcutaneously implanted xenograft models and PDX models can grow to over 30,000 mm3 in volume compared to 4,000 mm3 in mouse models of cancer.
The humanized immune system (huIS) is achieved through engraftment and reconstitution of the immune system with human cells. Humanized mice and syngeneic mouse models have been used in immuno-oncology studies. As a complement to syngeneic models and humanized mice, Hera is developing several methods for humanization of the immune system including using PBMCs and CD34+ hematopoietic stems cells. This model is ideal for immuno-oncology studies when paired with human xenograft/PDX tumor engraftment.
The humanized liver OncoRat SRG is currently under development. Hera has a proprietary rat liver ablation method, which allows for the implantation and expansion of human primary hepatocytes. This model has applications in identifying human specific liver toxicity, pharmacology and infectious disease (HIV, HVC, etc). Hera currently provides services in humanized mouse models.
Health Reports & Facility
Our vivarium is all 100% HEPA filtered, disposable IVC caging specifically designed for immunocompromised animals, such as the OncoRat SRG, NSG mice, SCID mice, Nude mice and Nude rat. Please see our most recent quarter of health reports below and contact us for additional reports.
Please see Our Vivarium & Husbandry Practices page for most recent quarter of health reports and other information
Growth Chart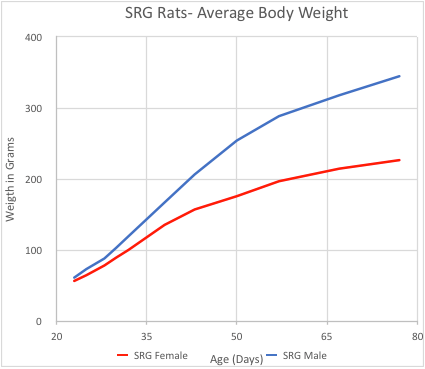 Pricing & Conditions for Use
Inquire for pricing of different age ranges, bulk pricing, and for non-profit/academic users.
Conditions for Use
Breeding of the OncoRat SRG is strictly prohibited.  Hera requires all customers to sign the terms of the Conditions for Use Agreement prior to shipping the animals. 
Frequently Asked Questions
Is breeding allowed? Breeding is typically prohibited under the Hera Conditions for Use for the OncoRat SRG. However, special exceptions are possible. If your study requires breeding of the animals, please contact us.
Can you provide older/younger animals? Currently our standard age at shipment is 4-5 weeks old.  Hera can accommodate requests for any age animals. Contact us to discuss your specific requirements.  Additional fees may apply.
When can I expect my order? The OncoRat SRG are reserved on a first-come first-serve basis. Upon placing the order your estimated arrival date will be provided and updated accordingly.
How are the animals housed?  The OncoRat SRG are housed in Innovive dual HEPA filter individually ventilated caging (IVC) in Hera's new barrier facility.  Health reports are available for the OncoRat SRG and Hera facility.
Do the OncoRat SRG require a special diet? Are there any additional health concerns? Standard irradiated rodent chow is used. Their immunodeficient phenotype leads to a susceptibility to opportunistic pathogens which should be taken into consideration, as is the case with any immunodeficient strain.  Other than that, the OncoRat SRG does not require any special diet or have any additional health concerns.